Product Spotlight - The Bodystat Touch
The Bodystat 1500 Touch is the latest Bodystat model with touch screen functionality, measuring body composition & hydration. This pocket-sized device gives accurate statistics for body fat, lean muscle mass, dry lean and hydration.

The unit is a lightweight, hand-held, battery operated Bioimpedance Analyser which is easy to use and requires no specialist skills. It is a non-invasive device, which measures the impedance value of the body providing quick and effective analysis of body composition. Whole Body analysis, rather than partial body analysis of arms or legs only, is measured for greater accuracy.
How does it work ?
It works by passing a safe battery generated signal through the body and measuring the bioelectrical impedance at a fixed frequency of 50 kHz. Once the test has been performed a complete body composition analysis is displayed on the LCD screen within three seconds comprising Body Fat, Lean Body Mass, Total Body Water and optimal ranges. Metabolic rates, BMI and Waist/Hip Ratio are also displayed on the LCD screen. large colour, straightforward to read and use, fast responsive touch screen.

The Bodystat®1500 measures/calculates
Body Fat % and Fat Weight*
Lean Mass % and Body Lean Mass *
Total Weight
Body Water % and Body Water*
Plus Normal Levels
Basal Metabolic Rate (BMR)*
BMR/Body Weight
Average Daily Calorie Requirement*
Body Mass Index - Plus Normal Range
Waist/Hip Ratio
Impedance Values at 50kHz
Estimated *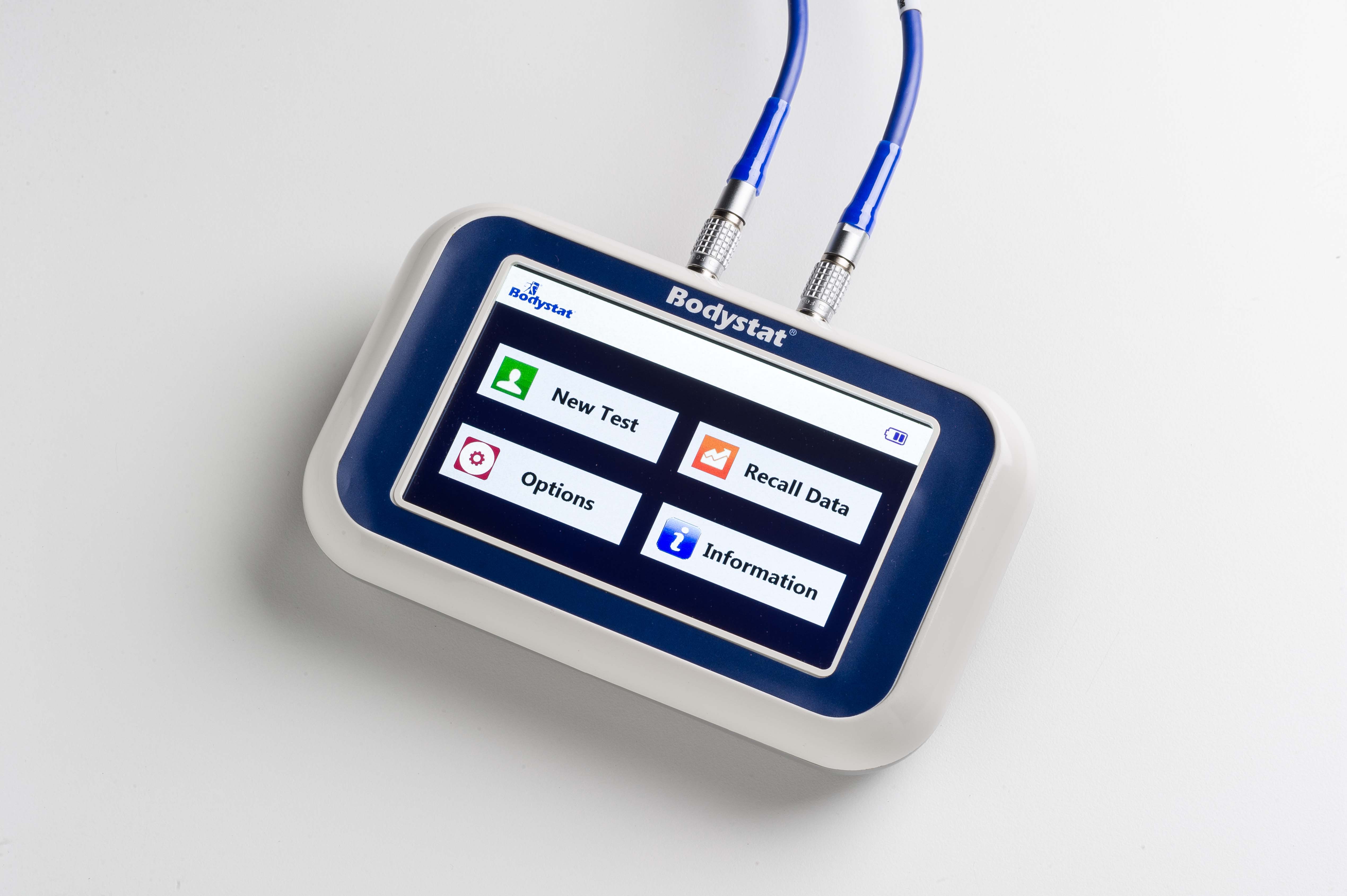 What is BIA Technology ?
BIA, or Bioelectrical Impedance Analysis, is a non-invasive measurement of body fat, lean muscle mass and hydration.
A small current is used to measure the resistance at difference frequencies against the various tissues in the body eg fat/lipid has a high resistance to the flow of current, therefore shows a high impedance reading. Lean muscle and water are good conductors of current, therefore will show low resistance or impedance readings.
Read more here
Using the Bodystat Touch
Four electrodes are placed in specific locations on the hand and foot. The patient is ideally lying down for a couple of minutes to stabilise fluids. Attach the leads to each electrode, input data such as age, weight, height and gender into the hardware device (touch screen). The measurement takes one second and all results are immediately visible on a colour touch screen ready to print or to view in an App.
Thermal Printer
The device can connect via blue tooth to our new Thermal Printer. It gives immediate printouts of the subjects analysis allowing you to talk through and explain their results with them at time of measurement. It also gives them something to study ahead of you emailing them your assessment and attaching the professional Bodystat reports. Click here for more info
Free 6 months access to Fitech V6 with any purchase *
Our online health, fitness and wellness reporting system enables health professionals to produce personalised health status reports for their clients, in an easy to read 'jargon' free format with next steps for self-improvement.
The system compares Body composition (weight, BMI, Hydration, Muscle Mass) results over time, referencing to recognised normative data. The software also contains 65 testing protocols covering the full health spectrum.
Download an example Fitech report here
Read more about our software here
* limited offer, for 100 subjects only. .
For more information on the Bodystat Touch visit the Fitech Online shop or call 0118 324 0061 , email sales@fitech.co.uk